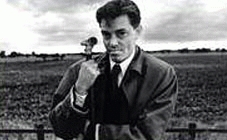 Published at August 15, 2014
Born William Nelson, December 18, 1948, Wakefield, West Yorkshire, England.
Plays: Vocals, Keyboards, Guitar
He attended local schools in the Wakefield area. Later, he went to theWakefield College of Art in the 1960's. Bill's late father, Walter, was an alto-saxophone player who led his own dance band. His mother, Jean, was a member of a dance troupe when younger. Ian Nelson, who appears on several of Bill's albums and was a member of Red Noise, is his younger brother. Bill has three children, Julia (b 1970), Elle (b 1978), and Elliot (b 1981). Julia was born with Bill's first wife, Shirley, and is an artist living in London. Julia had her first child, a boy named Luke William, in 2000, so Bill is now a grandfather. Elle and Elliot were born with Bill's second wife, Jan. Elle is a singer and Elliot a guitarist for a band called HoneyTone Cody. Bill married Emiko some time around April 1995. Emi was previously married to YMO drummer Yukihiro Takahashi.
Bill Nelson is both an enigma and a highly public person whose motivations sometimes seem shrouded in complex mysteries, yet whose sometimes prodigious output amounts to public development of song ideas and musical experiments. He has been both a guitar hero and the background figure in any number of art installations, exhibitions and theatrical presentations. While difficult for record company executives to grasp and often obscure to the general public, Nelson has nonetheless built up a strong and loyal fan base around the world.
Nelson was born in the West Riding of Yorkshire, in the semi-industrial town of Wakefield, showing a talent for art and design and a passion for science fiction. His father, saxophonist Walter Nelson, was the leader of a dance band, and his mother, Jean, had once performed as part of a dance troupe, so music permeated the household Nelson's brother, Ian, is also a saxophonist, while several close relatives were expert musicians. Even so, Nelson never learned to read music, and was relatively late coming to guitar he was well into his teens before his father bought him the Gibson ES345 that eventually became his trademark. His early influences included Duane Eddy, as well as the icon of every budding English guitarist of the early 1960s, Hank B. Marvin of the Shadows ("The Passion," included on The Two-Fold Aspect of Everything, is a veritable chronicle of Marvin's influence). Later influences included Jimi Hendrix, for whom Nelson wrote "Crying to the Sky," a Be Bop Deluxe song.
He went through a relatively normal process of education at Wakefield schools, eventually attending the Wakefield College of Art, where he was able to pursue his painting and graphics interests, as well as his fascination with Jean Cocteau. On the musical side of his life, he was involved with several unrecorded bands. The first known Nelson recordings are of a three-piece band called Global Village, who cut three covers for an EP and dissolved in 1968. Nelson also played on sessions at the Holyground recording studio, various of which have surfaced again in recent years, though Nelson is dismissive of his participation. Around this time he married for the first time, becoming a Pentecostal Christian and joining a church group called the Messengers, who later changed their name to Gentle Revolution. The marriage resulted in the 1970 birth of Julia Nelson.
Nelson's career began in earnest with the recording and release of a solo album, Northern Dream, which was financed by the owner of the Record Bar, a local Wakefield record store. The initial pressing was limited to 250 copies (it has since been reissued several times, much to Nelson's frustration; he has never received royalties from the record), one of which found its way to BBC disc jockey John Peel, whose late-night Radio One shows were a constant influence on British rock music. Peel took an immediate liking to the record, playing cuts from it on a regular basis, with the result that executives from EMI's Harvest label contacted Nelson with the intention of having him record for the label, possibly with a remake of Northern Dream.
Nelson had different ideas by this point, however, and had assembled the first version of Be Bop Deluxe, featuring fellow Gentle Revolution member Richard Brown (keyboards), Ian Parkin (guitar), Rob Bryan (bass) and Nicholas Chatterton-Dew (drums). Brown left before the band went into the studio. A single, "Teenage Archangel"/"Jets at Dawn," was recorded and sold at concerts just before the EMI deal was finalized. Nelson broke the band up after the recording of 1974's Axe Victim, after EMI expressed dissatisfaction with the abilities of the other members. Nelson briefly worked with Paul Jeffreys and Milton Reame-James, formerly of Cockney Rebel, and bringing drummer Simon Fox into the band. Bassist Charles Tumahai was the next addition, with the trio going on to record Futurama. Keyboardist Andy Clark was the final addition to the band, which remained together until the recording of Drastic Plastic in 1978, by which time the mantle of guitar hero was beginning to weight heavy on Nelson, who was intent on expanding his horizons. The band had quickly developed a reputation for quirky songs and musical pyrotechnics, facets demonstrated both in the studio and in a live context Live! In the Air Age remains a brilliant document of a great live band. During this period Nelson divorced his first wife, Shirley, and married his second, Jan, for whom he wrote a great deal of music; he also used her as a model for much of his art.
Red Noise was the next phase of Nelson's plan for life, originally intended to begin with Drastic Plastic never the same thing twice, in either musicians or styles. Sound on Sound was a fluid, expert document that demonstrated Nelson's ability to experiment, though at the cost of jarring both the audience and the record company EMI, looking for moneymakers and easy understanding, dropped Nelson. A second Red Noise album had been finished, but was never released in its original form.
Abandoning the Red Noise experiment, Nelson reworked the album and released Quit Dreaming and Get On the Beam via Mercury Records. In its original format, the album came with a bonus disc a full-length album of ambient sketches recorded in his home studio, released as Sounding the Ritual Echo (the album has subsequently been issued by itself). Quit Dreaming and Get On the Beam went into the Top Ten in the U.K. This was repeated with The Love That Whirls (Diary of a Thinking Heart), which also included a bonus album (this time La Belle Et La Bete, a theatre soundtrack recording) and the single "Flaming Desire." This period proved to be the commercial peak of Nelson's career, unfortunately Chimera, an EP, failed to generate much interest (it was released with additional cuts in the U.S., under the title of Vistamix) and a subsequent deal with CBS/Epic led only to strained relations and a confused release; the U.K. Getting the Holy Ghost Across was altered, resequenced and released in the U.S. as On a Blue Wing. For Nelson, the main advantage of the deal was that he was able to completely rebuild his home studio, providing him with the facility to experiment more and more, resulting in the release of the first Orchestra Arcana album, which combined synthesized soundscapes with sound bites and tape loops. The name originated as a result of a clause in Nelson's CBS contract that forbade him to release his experimental material under his own name.
Nelson started Cocteau Records in 1981, partnering with his then-manager, Mark Rye. The original intention, soon lost, had been for the label to release Nelson's instrumental and experimental work, as well as a variety of interesting artists. Of the people Nelson worked with, only A Flock of Seagulls amounted to much more than a footnote. In the end, the focus remained squarely on the release of Nelson's material across the board a sometimes bewildering array of titles, including the four-LP box set Trial By Intimacy (The Book of Splendours). Nelson also worked with many others, including Gary Numan, Yellow Magic Orchestra and Harold Budd.
Following the expiration of the CBS deal, Nelson signed to Enigma Records in the U.S., resulting in the American release of just about everything in his catalog bar Northern Dream and the CBS titles, with new titles including the two-LP plus one 7″ EP set Chance Encounters in the Garden of Lights, and a highly entertaining outing under the Orchestra Arcana name, Optimism. Enigma, however, was in the process of sinking from sight, with the result that most of the titles received poor distribution and one, Simplex, never received an official release (at one point, Nelson's ex-manager was selling copies by mail order). Between 1988 and 1991, Nelson's life fell apart spectacularly he was hit with tax bills, a separation and, eventually, a divorce, the collapse of Enigma, and a protracted battle with his ex-manager over the rights to his back catalog.
While the various wrangles somewhat derailed Nelson personally, nothing seemed to slow him down when it came to productivity; in fact, it appears that stress improves his output. The separation from his second wife resulted in the four-disc Demonstrations of Affection, as well as a backlog of recorded material that is still being released piecemeal on such sets as My Secret Studio and Confessions of a Hyperdreamer. Nelson had continued refining his writing and recording process, coming to the point that entire songs could be composed and recorded in a two-hour session, a speed of production that rivals that of Steve Allen. In the course of wooing of his third wife, Emiko, Nelson wrote and produced between 100 and 150 new songs in the space of a year, sending them to her on cassette.
Working as hard as ever into the 1990s, Nelson continued to produce and collaborate with other artists, facilitated by new management. His solo output became somewhat sporadic, with Luminous appearing in 1991 and several other albums, each on different labels, appearing in the years afterwards, though he has recently returned to normal with the limited-edition releases of My Secret Studio and Confessions of a Hyperdreamer, totaling six full CDs of songs, instrumentals and sonic experiments. Practically Wired…Or How I Became Guitarboy is a first guitar instrumental album, while After the Satellite Sings both experiments with the new territory of drum 'n bass while reflecting the kind of styles Nelson had eschewed as being too evocative of Be Bop Deluxe and his guitar-hero days.
He has worked on film, television and video scores, directed a variety of videos, toured as part of Heroes De Lumiere with his brother Ian, worked with Roger Eno, Laraaji and Kate St. John under the Channel Light Vessel name, formed a new Be Bop Deluxe (only to dissolve again when financial backing went away), performed as part of the Japanese group Culturemix, married for the third time, to Emiko Takahashi, become a big name in Japan, and recovered the majority of his work from former manager Mark Rye.
Nelson has created a new label, Populuxe, which has set up distribution arrangements with Robert Fripp's Discipline Global Mobile (DGM) operation. A planned reissue program should see the majority of Nelson's solo material available worldwide in revised editions, with new material interspersed with the reissues. Phenomenally busy, driven by his muse and an active magician, Nelson continues to delight and confound, issuing Atom Shop in 1998.
Steven McDonald
Gallery