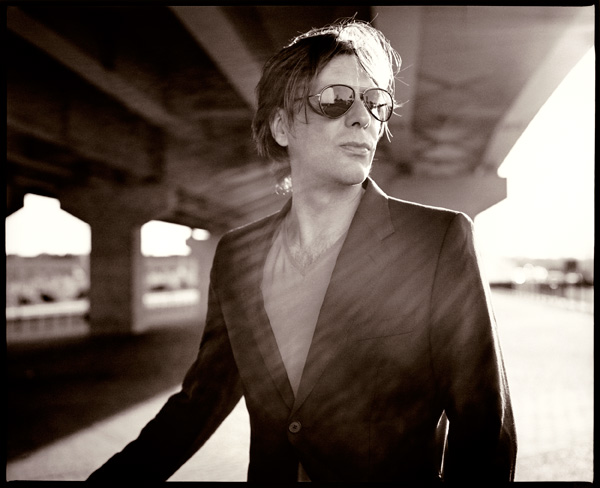 Published at August 15, 2014
Christian Fennesz was born in 1962 in Vienna.
From 1981 he studied Ethnology and Music at the University of Vienna.
With the band Blank he performed in Vienna and Paris.
1988-92 he was guitarist and singer of the band Maische with Harald Adrian (e-bass, sax) and Siegfried Schmid (dr).
Expanding on an idea that had first been embraced by Seefeel and that had infected countless British artists (Flying Saucer Attack, Experimental Audio Research), Vienna-based guitarist Christian Fennesz has made a career out of heavily treated guitar drones and noises.
Fennesz debuted with the four-track EP Instrument (Mego, 1995). The album Hotel Paral.Lel (Mego, 1997) was the first major expression of his vision. It will also remain his harshest work, influenced by industrial music, by Autechre's cut-up techno and by Merzbow's free noise. Fennesz is a composer of electronic music for electric guitar.
The single Plays (Mego, 1998), that deconstructs two classics of rock and roll, is another powerful manifestation of this metabolic process.
Plus Forty Seven Degrees 56'37" Minus Sixteen Degrees 51'08" (Touch, 1999) and, lo a lesser extent, Music for an Isolation Tank (Rhyz, 2000) continued the experiment while softening the edges. The music was still dense, at times massive, obscure, menacing, but not impossible.
Magic Sound (Mego, 2000) and Return of Fenn O' Berg (Mego, 2002) document live performances with Peter Rehberg (Pita) and Jim O'Rourke.
If the previous albums were philosophical treatises, Endless Summer (Mego, 2001) is a poetic work, one that rediscovers the power of melody in a world that is largely dissonant. Thus the futuristic muzak of Made in Hong Kong, Caecilia, Shisheido, "songs" that point towards a parallel universe of purely melodic sounds, but visible to us only through the fuzzy grid of quantum spacetime. At the same time, Fennesz has not given up on his most extreme impulses: A Year in a Minute, Got to Move On, Before I Leave, Happy Audio drill further down in the cells of that grid to test the ultimate nature of sonic matter.
Dawn (Grob, 2002) is a collaboration with saxophonist Peter Van Bergen and keyboardist Gert-Jan Prins.
Field Recordings 1995:2002 (Touch, 2002) collects rarities, including Instrument.
Wrapped Islands (Erstwhile, 2002) is a collaboration with Polwechsel.
Gallery