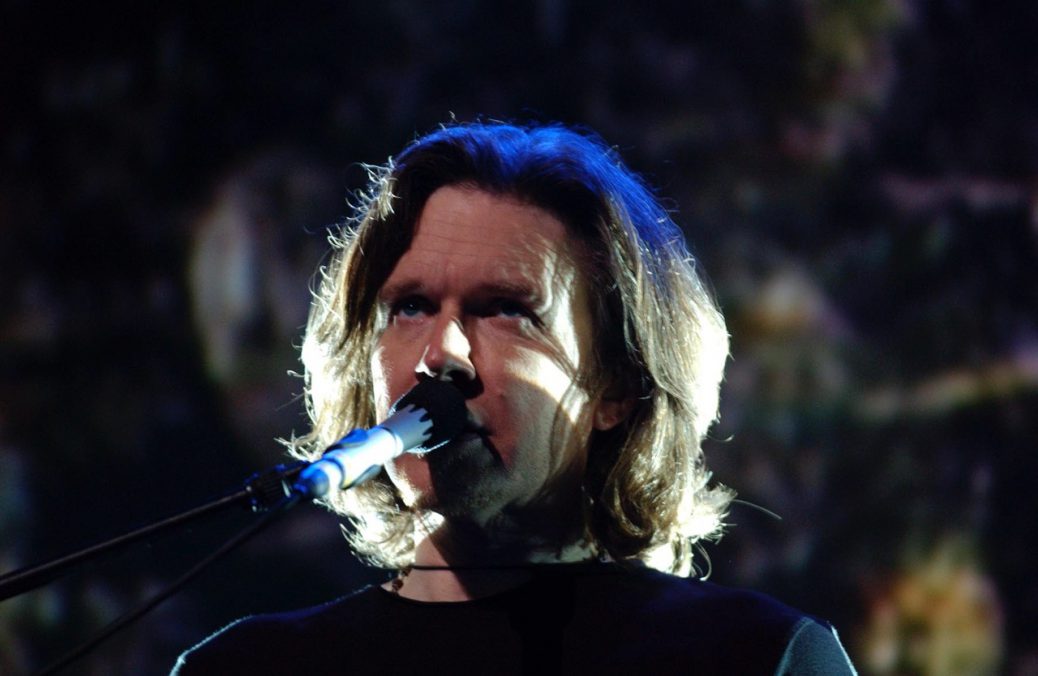 September 28, 2003
September 28, 2003
Setlist:
Blemish
The Good Son
The Only Daughter
The Heart Knows Better
She Is Not
Late Night Shopping
How Little We Need To Be Happy
A Fire In The Forest
The Other Side Of Life
When Poets Dreamed Of Angels + Cries And Whispers (medley)
The Shining Of Things
Blue Skinned Gods
Praise
Maria
Wasn't I Joe?
1st Encore
World Citizen
2nd Encore
Jean The Birdman
Picture © 2003 by Reto Oeschger (from newspaper "Tages Anzeiger"). Kindly provided by Simon Netzle.
Review:
Because this wasnt on the official website we nearly missed it… ok, we would have travelled north to Frankfurt but never the less… just dont expect the place to be full if you don't tell anyone. Your loss our gain. The concert was intimate with perhaps 250 guests. As with just about everyone in the forum I have been a fan for 20 years. The wife came along expecting to have problems with the difficult stuff (as I do). The result was beyond my (and her) expectations. Ok so the Bailey stuff is difficult: – no "tune" being apparent. This was all forgotten straight away once the only the only daughter was played. This is a style which will end up in the charts in the within the next year I am sure. Highlight probable the other side of life which was so different I didnt realise at first. The hour and a half went by in a tick..Do we really have to wait another 4 years for he next? Please let us know in advance….
A Swiss Moment Of Darkness
personal review of David Sylvian's "Fire in the forest" tour concert in Zurich, 28 September 2003 by Simon Netzle.
Switzerland always was a foreign place for Japan and Sylvian music. So I was very suprised to see him stopping by here on his "Blemish" tour. Nevertheless, the other former members of Japan once played here in the mid-nineties as a tour band of the Italian singer/songwriter Alice. And after all, according to "Smash Hits", David Sylvian visited Switzerland on one of his journeys after the Japan break up taking his polaroids. I assume being it Lake Geneva as he referred sitting "for hours on a lake" with "these blue mountains" and later on traveling to the French alps.
So then, Zurich. I don't know why he came here all of a sudden while touring "Blemish". A masterpiece without any doubt – but definitely not an album for a mainstream market like the Swiss. (At this point, I must thank Keesjan van Bunningen, with whom I once disputed on this topic in his newsgroup). Nevertheless, the venue Palais X-tra, a highly frequented concert hall, bar, lounge and restaurant constructed in the Bauhaus style, gave the intimate surroundings for his chamber pieces. I gathered at the entry with a bunch of people. Not surprisingly some of them travelled from far (even France) as Sylvian has only a small (but devoted) fanbase in Switzerland. I was told the band was having dinner at the venue, while Masakatsu Takagi went for a McDonalds restaurant nearby.
At the concert, I caught front row, very close to the stage, seeing Sylvians pale face, singing very concentrated but in a clear and deep voice which I found even better as on the album.
As he performed the whole "Blemish"-album throughout the evening the atmosphere was tense and patience was needed from the audience. Then – I don't know why, maybe to live up things a bit – in the midst of "How Little We Need To Be Happy" a woman in front row stood up and started  … to dance! Oddly enough she did it to one of the most dodgy pieces of all places! But it obviously helped and loosed tension. Steve Jansen wrestled a big smile to Takagi and even Sylvian ended his bluesy "Jean the Birdman" with a slight swing with his guitar.
I especially liked the second part, which contained new interpretations of his songs as he did on previous tours with songs like "Gone to Earth" (1988) or "Waterfront" (2001) by giving them whole new twists. Best one to me was "Maria", when music and visuals blended perfectly in. In general, the audience kept very quiet the whole evening. But judging from a heartfelt applause, they welcomed Sylvian warmly on his Swiss premiere. As often on stage, he remained briefly and kind ("Thank you – good night").
One hour after the concert, he and Jansen shook hands and signed for a group of twenty while waiting outside for the taxi. I doubt this concert had marked major footprints to attract a bigger audience in Switzerland. For me, after seeing him twice abroad (Frankfurt 1988, London 2001), it was definitely special to see him so close. I thanked him for "ehm… everything" and he kindly signed my tour programme. – I experienced the typical and disappointing "meet your idol" moment. Not because I didn't know what to say, but because I can't remember what exactly happened at all (Did I shake his hands?). It was "the darkness of the lived moment" as philosopher Ernst Bloch once described "the immediate now, which is lived but never experienced". – To console myself I listened to "Blemish" on my way home. Isn't it the music which brings the artist closer – more than any artistic performance near your home?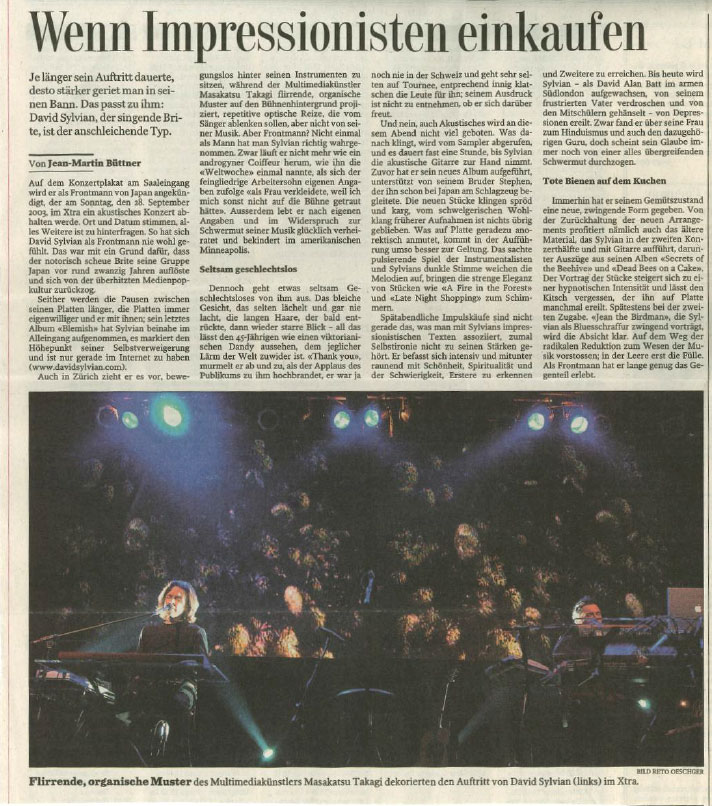 Review in Tages-Anzeiger (Switzerland) of the 30 september 2003 concert