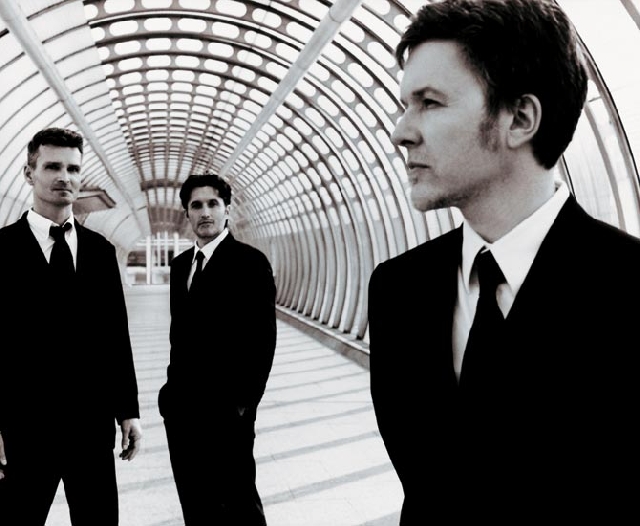 Published at October 10, 2005
by Lorenzo Del Ponte
Interview (in Italian) with David
Sono passati molti anni da quando David Sylvian, capelli tinti biondo platino e trucco pesante, era il leader dei Japan, una formazione che proponeva un rock elegante sul modello dei Roxy Music. Era la fine degli anni '70, il punk impazzava e il new romantic muoveva i primi passi.
Oggi David Sylvian un raffinato signore che dopo la separazione dai Japan, avvenuta nel 1983, ha intrapreso una interessante carriera solista all'insegna della sperimentazione, lontana da qualsiasi tentazione pop. Sylvian in Italia per parlare dei Nine Horses, un nuovo progetto musicale di cui fanno parte Steve Jensen e Burnt Friedman e a cui hanno collaborato anche il trombettista Arve Henriksen, la cantante Stina Nordenstam e Ryuichi Sakamoto. Il trio ha appena realizzato un nuovo album, "Snow borne sorrow", un lavoro affascinante lontano dallo sperimentalismo di Blemish, album del 2003 e pi affine per sonorit a opere come "Brilliant Trees", Secrets of the Beehive" o "Dead bees on a cake".
Affari ha incontrato il poeta del rock inglese…
Dopo lo scioglimento dei Japan, a partire da "Brilliant trees", il tuo primo album, hai intrapreso un cammino musicale allinsegna della ricerca. In un mondo dominato dal pop, una scelta che ti costa fatica?
"No affatto. E vero, che il genere commerciale oggi sempre pi invadente e scadente, tuttavia ci sono ambiti piuttosto ampi e diffusi in cui i musicisti servendosi della tecnologia, possono produrre musica non necessariamente di facile consumo"
E la scelta di abbandonare i Japan, gruppo con cui avevi raggiunto il successo commerciale e la notoriet, stata difficile?
"Quando mi sono accorto che l 'esperienza con i Japan era finita, ho agito di conseguenza. Non mi spaventava rinunciare alla notoriet, quanto piuttosto l'idea di intraprendere un nuovo percorso musicale al tempo non avevo le idee molto chiare sul mio futuro"
Eppure hai esordito con "Brilliant trees", un lavoro molto maturo ed ancora oggi uno dei vertici della tua carriera. Come nato?
"Era il 1984 e attraversavo un periodo di incertezza esistenziale, da una parte avvertivo un senso di perdita dovuto anche alla fine dei Japan, e dall'altra sentivo che per me si stava aprendo un nuovo universo. Ero come sospeso tra queste due opposti stati danimo. Sempre in quel periodo, poi, mi sono innamorato per la prima volta Insomma l'intesit di quell'album deriva da tutti questi fattori Devo aggiungere inoltre che i musicisti che hanno collaborato con me a 'Brilliant trees' erano eccellenti: c'erano Holger Czukay, Mark Isham, Riuichi Sakamoto, Jon Hassel"
Con Sakamoto tra l'altro hai mantenuto un rapporto costante negli anni. E' presente anche in "Snow borne sorrow", il tuo ultimo lavoro che si apre con un brano dal titolo "Wonderful World". Visti i tempi, fai dell'ironia o pensi davvero che il nostro mondo sia meraviglioso?
"Non sono una persona molto ironica, non nel mio carattere esserlo. Dunque il titolo del brano esprime esattamente quello che penso: nonostante il periodo tormentato che stiamo attraversando, possibile guardare alla realt con occhi diversi. Trovo che la bellezza e che il sacro siano ovunque, basta saperli scorgere e questo dipende molto dalla prospettiva del nostro
sguardo".
(Segue – "Vivo in America, ma non mai stato il mio sogno. A New York una homeless mi annunci l'11 settembre…")