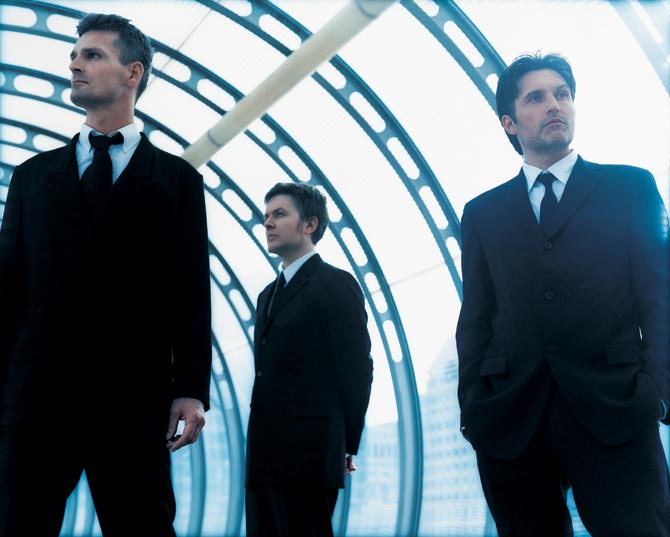 Published at September 4, 2005
review by Gerrit Hillebrand
Nine Horses – Snow Borne Sorrow
Samadhi Sound SS006.
Nine Horses – Snow Borne Sorrow
2005 davidsylvian.net, Gerrit Hillebrand (4 september 2005)
The long awaited album with Sylvian involved will be released on Samadhi Sound (SS006)on October 10th 2005. As the band named Nine Horses, David Sylvian, Steve Jansen and Burnt Friedman have produced a remarkable and accessible album called Snow Borne Sorrow.
I say band, as this is definitely a collaboration between the three artists and not a Sylvian solo album.
After the dark Blemish album, David might have lost some fans because they found the album inaccessible. An album with electronic tracks on the edge of what fans could/would appreciate juiced with strong statements about his difficult domestic period. But I think that David was right. David doesn't compromise. He does his things as he wants to.
Same on Snow Borne Sorrow. But with Snow Borne Sorrow, there's an album with easier listen-able and accessible tracks but still with the same ironic, (sometimes) bitter lyrics that forces us to look at the world from another perspective.
Overall, with Snow Borne Sorrow, David gets a lot of fans back. I'm sure.
The influence of Steve and Burnt is very present. And before I forget, the contributions of Ryuichi Sakamoto and Norwegian trumpeter Arve Henriksen (Supersilent) is of great importance for the whole album.
Snow Borne Sorrow is a highly recommended collaboration of three great musicians that deserves to be found in many record shops and not only in their 'Sylvian'-section!
Wonderful World [6:04]

And it's in times like these
That she promised to call
But the scale of our love
Is diminished and small.

The track starts with a cinematic, jazzy rhythm structured with superb bass playing of Keith Lowe. Wonderful World has a catchy melody with Stina Nordenstam filling in the gaps between Sylvian's ironic looks at the world of today. What Stina is singing/saying isn't clearly to me as I can hardly understand a word she's saying. The choice of Stina is remarkable as her style of performing on this track sounds a lot like Ingrid Chavez. Maybe a purposeful move of Sylvian. One of my favorite tracks of this album.

Darkest Birds [5:05]

A strong, radio-friendly track which reminded me immediately of the Dead Bees On A Cake album. Bitter, cynical lyrics on an up-tempo Jansen beat with great guitar work of David himself. Arve Henrikson's trumpet sounding like Jon Hassell and Nils Petter Molvaer. A dark but moving and brilliant track! One that many Sylvian fans will appreciate.
The Banality Of Evil [8:01]
Atom And Cell [7:08]

For me, the two most uninteresting tracks of this album are the third and fourth track. The Banality Of Evil is another message of David to America's politics after the 9/11 terror and Atom and Cell is a track which was just too long for me. The reason for this might be that I have problems with the backing vocals, obviously. For me, the background vocals are too present on both tracks.

A History Of Holes [8:04]

And God bless amnesia
and the things I suppressed
I can reframe the image,
I can discard the rest.

Do you know the occasions when a song you hear for the first time doesn't impress you very much but after listening a second time and listening carefully to the lyrics, the song kind of grabs you and is growing after repetitive listening's? A History Of Holes is such a track. A reflection of David on excellent music by Burnt Friedman. Keith Low is playing bass, Tim Motzer on electric guitar and Theo Travis on flute and saxophone.
Great track and together with Wonderful World and the title track my absolute favorite.

Snow Borne Sorrow [6:25]

Once a playground of swings
Then malice set in
And reduced all the colours to winter

I was in the fortunate position of listening to this track (a rough demo) three months ago and I was immensely impressed. After hearing the final track on this album I was even more impressed. I can only say; this will be a classic! Written by Steve Jansen with lyrics and vocals by David Sylvian, combined with sensitive additions of Ryuichi on piano and the Hassell-like trumpet playing of Arve Henriksen makes this track a treat that could easily be placed on albums like Brilliant Trees and Secrets Of The Beehive.
Unlike Blemish, this is the only track on the album which features heavily used electronic elements by Steve's Apple.
One minor point: this track is too short! The track is ending at a moment where you expect some Jansen/Henriksen/Sakamoto session for many minutes more. Hopefully this whish will be fulfilled at a future live performance.

The Day The Earth Stole Heaven [3:21]
Serotonin [5:56]

Maybe it's not appropriate to take these two tracks together, but both are written by Burnt Friedman (the first together with Tim Motzer). Very accessible tracks which give plenty of room for Sylvian's lyrics. Both tracks make heavily use of Friedman related musicians: Daniel Schroeter (bass) and Hayden Chisholm (clarinet).

The Librarian [9:01]

Turn their lights out, change the channel
Before we lose the heart
To fight against belief in what they're saying.

A new, better mix of the track that can be found on the Burnt Friedman & Jaki Liebezeit vinyl EP Out In The Sticks. This version is based on Steve's rhythm and besides Keith Lowe and Tim Motzer use is made of the contributions from Hayden Chisholm (clarinet) and Morten Grnvad (vibraphone).
One reason alone to buy this album.
2005 Gerrit Hillebrand
Special thanks to Richard Chadwick and Adrian Molloy @ SamadhiSound / Opium (Arts) Ltd.