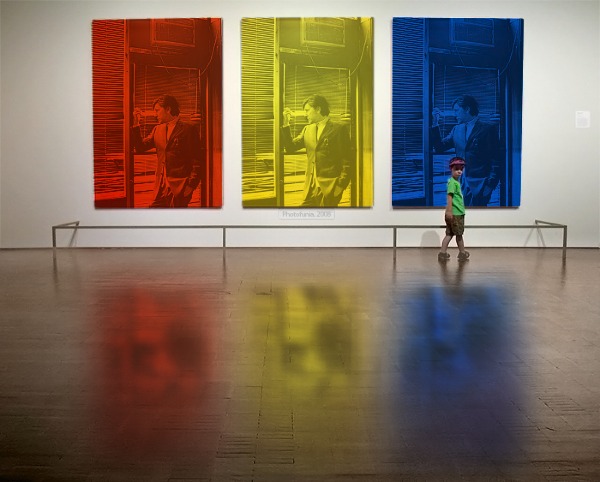 Published at September 3, 2002
Trophies exclusive interview 2002 by G. Hillebrand. This is part 3.
Q&A02 2002 Gerrit Hillebrand (September 2002).
This is part 3 of the second exclusive QA session of trophies.org with David Sylvian. The questions were submitted by the readers and where possible combined. A big selection of about 80 from the 220 submitted questions have been answered by David. Quite a few questions are in fact referring to the same subject or overlap each other, therefor you can find more than one name of questionnaires at a particular question. There will be no correspondence about reasons for questions not being answered by David.
We'll continue with part 3.
Future
I was very touched by 'The Song Which Gives The Key to Perfection' and Sree Maa's 'Praise' (Pra-tah Smarami). Are you planning to record a CD filled with spiritual songs only? (questions combined from Joop Stemerdink, Shandika, Arthur)
DS: Its possible I'll get to that in time.
If you could collaborate with anyone you wanted who would it be? (question by JoAnne Tracey)
DS: Well, Ive already been very fortunate.rather than choose someone Ive yet to work with I would in all likelihood choose to further one of the existing collaborations.
Following your recent collaboration with Tweaker on the excellent "Linoleum" single do you have any plans to record any more material of this nature and can we expect any further collaborative work in the future with Chris? (question by Simon Purdon, Quentin, Gerrit Hillebrand)
DS: No, I don't have plans to pursue writing more material along the lines of linoleum. Further collaborations with Chris? Should the right material surface I'd be open to contributing more to any of Chris' projects. That's really up to him.
What kind of dream haven't you realised yet in music? Is there is a project that has never seen the light? (question by heurtebise)
DS: In a sense the dream remains consistent. Its matter of getting closer and closer to the goal with each fresh attempt.
There are many projects that have yet to see the light. I feel the world of possibilities is as open and attainable today as they've ever been.
Can you confirm that your catalog of work will be released digitally remastered, and will it be avail-able in the US? (questions by Navorio)
DS: That was the plan about 8 months or so ago when I was preparing Camphor for release. Since then the political situation within Virgin has worsened considerably. As a result any promises that were made are unlikely to be fulfilled. In fact those good people who cared enough about the catalogue to suggest its remastering are no longer with the label. If you'd like the work released then I'm afraid its probably up to people like yourself to petition the company if you've the time, interest, and motivation to do so.
My impression about the E&N mastering was that, although satisfactory, the restorement worked too much on the 'powerful' side (i.e. high sound level, boosted basses) somewhat at the detriment of the delicacy and subtleness inherent both in the music itself and the sound of the original LPs (e.g. the introduction of Every Colour You Are and the whole of Cries & Whispers on E&N sound to me much too loud compared to what 'surrounds' them, thereby missing the mark as far as the very nature of the piece goes). In that respect, do you think handing the job to the original mastering engineer (mostly Tony Cousins) would help making the most of the material?
DS: Mastering/remastering can have dramatic consequences on the material in question. I dont know how deep my involvement would be at this point. Even handing the work over to the original engineers doesnt guarantee the right results as you see them.
In recent years you have recorded in a home studio, self producing the material. Do you feel that this has made an impact in terms of the quality and feeling in the pieces? Could you forsee the need to bring in an outside producer again? (ie Steve Nye, Nigel Walker) (question by Chris Crader, Patrik)
DS: I can't see the need for working with an outside producer again. There could be the desire to do so though. It depends on the project and how I perceive my role within it.
I've always been fascinated by the change of direction your music took at the end of 1989 with the release of the Pop Song Cd and particularly the track "Conversation ending in Divorce" (somewhat more electronic). I've always wondered, would you ever go back to this kind of music for the length of an album (a song album)? I do think tracks like Linoleum and
Sugarfuel would compliment that style… contemporary uptempo pop/electronic music. (question by Renaud)
DS: The Pop Song single was a favorite of mine. Yes, I do intend to return to that territory from time to time.

Camphor version of Mother and Child is very beautiful – is it the only fruit of your collaboration with Nils Petter Molvaer?(combined questions by Rune Teigland, Renzo Pietrolungo, Nigel Wade, marco bovati)
DS: Currently, yes.
Would there be a chance for a collaboration with Nils Petter Molvear or Bill Nelson or others in the future?
DS: Always a possibility, yes.
Are there any plans for any kind of DVD release (e.g. Steel Cathedrals, video promos)? (question by Hkan Lindquist, "Godot", Leon, Henk Goossens, kirk harrison, Tim Brice, Shannon bruneau, jem cole, marco bovati, Alan Greenhalgh)
DS: Not at present. We had a wonderful concept for an expansive DVD release but could not convince Virgin records of its relevance/significance. As they own most of the material in question it becomes harder to realise such a project at this point in time. Ive also no desire to go on working with the company in any capacity as it currently stands.

After Dead Bees On A Cake do you feel that you'll return to more experimental forms of song and music, and are your influences now more rooted in the east than the west. (Gary from Birmingham)
DS: I hope the different areas of work that continue to inspire me can co-exist. As I said earlier in this q+a, its the philosophies of the east that continue to inspire but that should not indicate that Ill only draw musically from that corner of the world.
What is your favorite song? (question by Fredrik L)
DS: A question I find impossible to answer.
David, your colaboration with italian artist Andrea Chimenti gave birth to a beautiful piece of art which is "Ti Ho Aspettato (I have waited for you)". I believe that it shouldn't be very easy to achieve such result working with an artist with a completely different background and culture. How did you two meet and how did you develop the song? Do you believe there will be any other collab-oration with italian artists in the future? (Considering also the "Marco Polo" project with Alesini) (question by Lori)
DS: Andrea approached me to work on some material while I was on tour in Italy I believe. Although I liked what I heard, Andrea had, at that time, more or less finished his album and I felt there wasnt room for a contribution from me, that it wasnt really necessary. In response to this he wrote the outline for the piece that was to become Ti Ho Aspettato. As is the case these days I worked alone on the piece in the US and sent my contribution to Andrea when finished. He then completed the work.
Im open to working with people from all over the globe should the context inspire! Time is the main issue.
I've hard from a friend of mine at Materiali Sonori that you are collaborating with Roger Eno and Hector Zazou. Can you give us more info about this? (question by Lucio di Francesco)
DS: I contributed guitar of sorts to some interesting recordings by Zazou. Ive not heard any more on the subject since I returned the sound files in August of last year.
If you have the rights and access to the tracks, would you ever consider releasing the studio ver-sions of Damage, The First Day and The House in Which We Live that were recorded during the sessions for The First Day cd in 1992 and 1993 (question by Brian)
DS: There are no studio versions of these pieces.
I thought your version of Tim Hardin's 'It'll Never Happen Again', that you played on the Slowfire tour, was very touching and sent a tingle down my spine. I just wanted to know if you'd ever consider doing a studio version of that song and, by the same token, if you'd record 'I Do Nothing', 'Under Ingrid's Wheels' and 'The First Day' as studio pieces. These songs are also quite exceptional and, barring the bootleg option, impossible to get hold of. (question by Mario Giannini)
DS: My compositions that you mention will not be given the studio treatment. The same probably goes for the Hardin piece but I do love that song.
Over the years you have done a few cover versions of other artists' songs. While rare for the average pop artist, it is the usual practice for jazz singers to record an album entirely of other's compositions. If you were to do an album's worth of cover songs, what would be some possibilities? (question by "insaisisable")
DS: I'll answer that with the record in question in time.
Will you ever considered putting pen to paper and giving us your life story, only other books written about you have not done the justice you deserves! (question by Colin Green)
DS: I appreciate your interest but I'll not be writing an autobiography.
Are you working on new material, and when will it be release? (question by Andy James, Jeremy Cole)
DS: a) Yes. b) I really can't say.
If you were to be remembered for one piece of music or song you have written what would it be and why? (question by Ellie)
DS: Again, I can't say. If Im to be remembered (and in all honesty theres no desire in my heart for that outcome) itll hopefully be because something has resonated in the work. If the work is remembered in the hearts of a handful of individuals long after Im gonethatll be perfectwhy ask for more?
Given that it is the quality of The Question that reveals the truest value in an Answer. People might be wondering; "What question do you most often ask your Self, David'? (question by "K.")
DS: After 70 odd questions I think Ill keep that one to myself.
Thank you for writing, voting, remaining interested.

Gratitude

Peace one and all

david