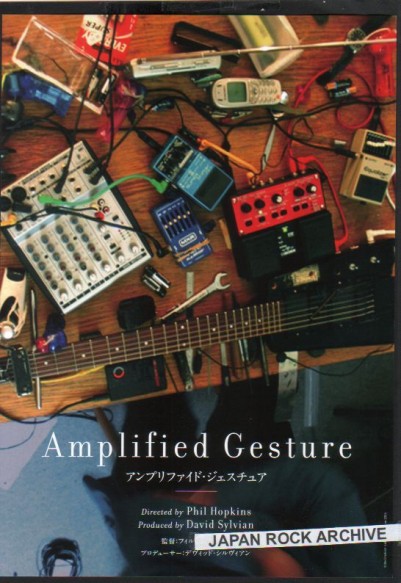 On September 14th 2009, the movie Amplified Gesture will be shown at the Institute of Contemporary Art (ICA). There'll be a screening of the DVD, a Q&A with the director and a playback of a couple of tracks from Manafon. David will not be there!
Amplified Gesture is the title of the dvd that is included in de deluxe edition of Manafon.
Director is Phil Hopkins
Duration: 55 minutes.
Tickets available from the ICA.
According to the ICA site:
This documentary talks to musicians gathered for David Sylvian's Manafon album.
The evening will include a Q&A session with the director and an exclusive preview of material from Manafon.
A UK premiere presented by The Wire & Samadhisound
In the September 2009 issue of the Wire, the contents of the DVD is a bit more specified:
The Wire and SamadhiSound co-host the premiere of Amplified Gesture, a documentary which came out of the production of David Sylvian's new album, Manafon (out 14 September). The film, directed Phil Hopkins and executive produced by Sylvian, documents the individual philosophies of the cast of musicians assembled for the project; containing interviews with Christian Fennesz, Toshimaru Nakamura, Evan Parker, Eddie Prévost, Keith Rowe, John TIlbury, Otomo Yoshihide, among others. The evening will include a Q&A session between director Phil Hopkins and the film's interviewer Nick Luscombe, along with an introductory talk and an exclusive preview of material from Manafon. Along with the event The Wire Sound System will be in attendance at the ICA bar spinning a selection of the best tracks available. London ICA, 14 September, 6:30PM
and
Conscious of the challenge he is presenting to his longtime fans with Manafon, Sylvian commissioned a 50 minute film, Amplified Gesture, to be included in the deluxe edition alongside a 5.1 stereo mix of the album. Essentially, it presents the album's participants, plus contributions from saxophonist John Butcher and AMM percussionist Eddie Prévost (who have worked with Sylvian on an installation soundtrack called When We Return You Won't Recognise Us), talking about their art under a series of chapter headers.