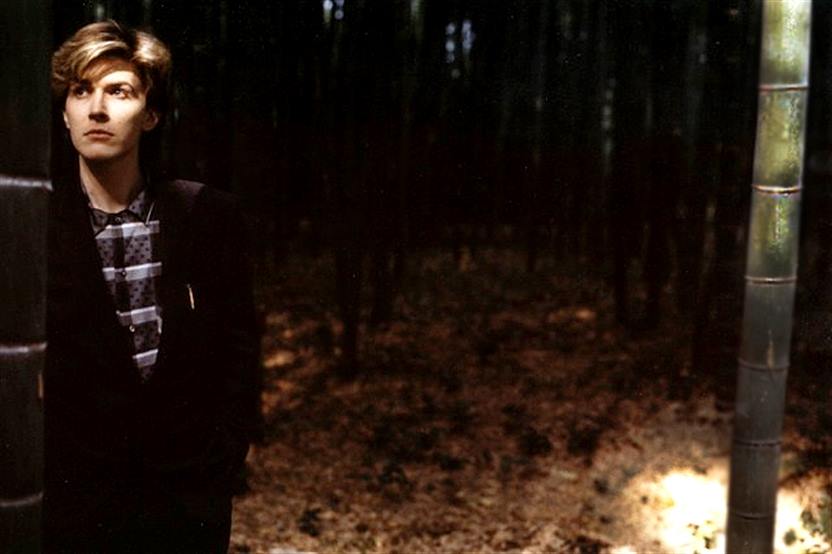 Published at August 15, 2003
Excellent interview of Hannah Jones with David once published in the Welsh national newspaper The Western Mail, 15 August 2003.
He was a reluctant pop pin-up as the lead singer with Japan but fled the limelight to explore the frontiers of musical experimentation. HANNAH JONES fulfils a dream and meets David Sylvian, a serious man who is finally exorcising his Ghosts and going Late Night Shopping
GO and sit in a darkened room," orders David Sylvian. "It'll make sense then 'cos it's a bit difficult. But for God's sake, don't listen to it in the car driving through Wales. You don't stand a bloody chance then."
Let's stop there for a minute and analyse that statement.
David Sylvian, British music's most serious of serious artists, the man who took the light out of delightful to make his sound even more wondrous, is talking about his new album Blemish.
And he's being bossy.
And he's swearing a bit.
And he's making light of his assumed darkness of spirit.
And he's admitting that his new album isn't that listener friendly.
And, the sweetest sound of all, he's laughing.
It's a sound I thought I'd never hear, even though I'd heard rumours that he's had the odd chuckle in the past.
I also didn't think he'd say as much as a "damn it", certainly not take God's name in vain – he's a spiritual sort, you see – wouldn't dare not to look at his output through rose-tinted spectacles or be so remarkably open and candid.
As a man who is known for his dissatisfaction with the media process, the thought of talking to him at point blank range was a disquieting prospect.
Add to that mix my personal admiration of his work and marking him out as my number one musical influence, the thought of Sylvian up close and personal was for me akin to suddenly bumping into him in Tesco and having him ask me for MY autograph, ie miraculous.
The situation was huge, or in Sylvian speak, "sad" – said with an overbite of a smile, of course, and a self-depreciatory jibe at my expense.
But, if you will forgive my gushing, Sylvian has been in my life longer than any lover, most friends and has outlasted the fads of my teens and 20s.
And why? Because he's never let me down.
I was 14 when an ex-boyfriend, who thought he was the second coming of David Bowie and Jean Cocteau, played me Sylvian's first solo album Brilliant Trees.
And, from the gut thumping opening strains of Pulling Punches to the simple sad beauty of Nostalgia, I was transfixed.
It was the first time I had heard "proper" music, the first time I'd heard a man singing plaintively about his slipping grip on life, about questioning every little bit of himself in order to recognise his very own "method of living".
It was as if he turned my notion of masculinity on its fickle head while simultaneously turning my life inside out.
It was, and still is, the sound of big questions, big themes from a big voice garnering big emotive responses all round.
So the swearing, giggling, questioning, bristling, funny side of Sylvian is not something I expected.
But, secretly, it was everything I hoped for – and much, much more.
So who, then, is this David Sylvian?
In deference to his chagrin at talking about his past – "I know I've got to put stuff in context but I'm so fed up of talking about it" – I'll quickly gloss over it.
But you should really know who he was to understand the man, and artist, he has become.
He was, once upon an image based on a floppy fringe and lipstick, voted the World's Most Handsome Man.
This is the Sylvian the public still remember; the beautiful one, the sensitive one, the enigmatic artisan, the good-looking swaying frontman who wanted to hide in the shadows of Eastern-inspired beats with his schoolfriends from Lewisham.
He was the lead singer of the band Japan, one of the most original and (initially) underrated British bands of the late '70s and early '80s.
Remember the choppy Visions of China, the ethereal Ghosts and the poppy Life in Tokyo?
That's the old Sylvian, in and out of rouged cheeked context, but you need to meet the smile behind the frown to appreciate who is now.
Although for a number of years Japan attracted a devoted cult following (sited as an influence by Radiohead, Tears for Fears, and Duran Duran, among others) it was not until 1982 that they achieved widespread success with the seminal album Tin Drum, the place where Sylvian metaphorically walked backwards in order to take his personal journey onwards.
Taken from that record, the poignant, reflective but unlikely single Ghosts, with its unique electronic arrangement, which still sounds contemporary 20 years on, gave the band their biggest chart hit, reaching number three in the UK singles chart.
It also indicated the direction Sylvian would shortly pursue in a remarkable, ground-breaking, solo career.
And that's the point at which he becomes a largely unfamiliar but powerful force.
"Writing Ghosts was a turning point for me," he recalls.
"So much of what we created with Japan was built upon artifice. With that song I'd felt I'd had the breakthrough I was looking for. I'd touched upon something true to myself and expressed it in a way that didn't leave me feeling overly vulnerable.
"In the coming years I'd forget about all notions of vulnerability, opening up the material to a greater emotional intensity.
"I knew that I had to find my own voice, both figuratively and literally. I also wanted to strike up working relationships with other musicians."
However, Sylvian doesn't want to talk about Japan. Not that he won't, it's just that he feels he no longer has to.
But with his former record label Virgin reissuing some of Japan's albums this month, along with a series of his solo recordings, it's inevitable people will start to muse about the importance of the band and wonder how big they could have become if Sylvian hadn't been so disenchanted with the notion of celebrity and playing his Red Guitar.
But he's having none of it and in this case, he's certainly not drowning in his own dark pool of nostalgia.
"If you'd lump all of the releases together then I'd have different things to say," he says pointedly, a hint of humour coupled this time with a sigh.
"Virgin have done a good job with the packaging and stuff so they've tried their best, so some of the albums being reissued is good for people who still like the Japan stuff.
"And I always want to have my solo material heard and reach the most amount of people as possible.
"But the past is past. I spent a long time thinking about it, thinking that I was stuck in the past, worrying that I didn't have anything else to offer.
"I felt creatively stifled like that so I'm sick of talking about it. Know what I mean?
"I really wanted to draw a line under everything I've done before when I put out the retrospective Everything and Nothing.
"But I suppose people will always hark back to it."
Sylvian, even for his steely determinism not to put his musical past in some sort of historical context for the uninitiated, isn't petulant or antsy when the subject is broached (even though I'd been warned by his management company that he wouldn't answer questions on his Japan years).
Like any cockeyed optimist, he just wants to concentrate on the present knowing at the back of his mind that you can only look to the future while nodding at the past.
As a solo artist he's a resourceful pioneer who, like those who have been seduced into making music they personally identify with without much thought of whether it would be a commercial success, has embarked on a career path which has taken him from emotional loner to happily married but still doubting and fragile in his iron clad single-mindedness father of three.
He's done collaborations with Robert Fripp – the King Crimson guitarist who also doubles as Toyah's husband – Ryuichi Sakamoto – remember Forbidden Colours, the beautiful ballad-like anthem to the David Bowie film Merry Christmas Mr Lawrence? – and his wife and former Prince protegee Ingrid Chavez – the woman whose poems and face brightened the purple one's otherwise silly ill-fated film Graffiti Bridge (she also made a name for herself by successfully taking Lenny Kravitz to court claiming that she had co-penned the lyrics to the Madonna hit Justify My Love).
He also got the members of Japan back together under the name Rain Tree Crow for a one-off album which was critically relished but commercially panned, a textured and pulsating offering bristling with moments of sparse genius.
Then there's his experimental side, the stark electronic warblings that pepper such albums as Plight and Premonition and Words With The Shaman.
But, for me, his brilliance is in his brand of strange pop, the oddly affecting soulfulness of his ballads, the certain symmetry of his phrasing, the humility and honesty of his lyrics.
And then there's that voice of course, like crushed velvet recycled over and over and over again just for added depth and fluidity.
It's purity personified, supplying hope to any darkened heart. It is, simply, above reproach and indescribable.
"I try my best to reach people with what I do," says Sylvian, who now lives in New England where he has built his own studio and created his own record label Samhadi Sound.
"The people who I like listening to, like Nick Drake and Miles Davis, they did that.
"They tried to reach people's hearts. Music can do that, can take you places that you don't really want to go.
"It's like a journey you don't want to go on, but sometimes you have to face difficult questions and go to difficult places.
"Music for me is cathartic but also a necessary component to who and what I am.
"My new album, Blemish, is perhaps the most open album I've ever done as it's very vulnerable.
"I take loads of time over the recording process but I told myself I was only going to give myself six weeks in which to do this album.
"So my brother and I (his long-time collaborator and fellow Japan member Steve Jansen) just went into the studio and improvised.
"Then the lyrics followed. So what you have is a very emotive album, one that people might find a bit difficult, but one in which I've been really honest.
"It took me in new directions creatively and emotionally. It was quite a journey for me and really beneficial.
"It displays a lot of openness and I just went with it. I mean, I only had six weeks to do it in and I didn't have time to go back and question myself, ask myself if I'd given too much of myself away, if I'd be better off if I'd been more self-contained.
"So I thought I'd go with the flow. I'm not concealing anything at all."
The result is beautiful and thrilling in places, if not complex and aching in most.
It's not a particularly accessible album, ironic since Sylvian, now 45, and after a lifetime of self-doubt, acknowledges that his greatest desire is to reach more people with his music.
To the casual listener Blemish could be described as being just a lot of joined up noises, an extended stab at bleeps and unimaginable jazzy burps, long howls of anguish over a bed of improvised guitar sounds and fanfares from instruments you never knew had been invented.
It's contorted, distorted, discordant and simply sublime.
As one critic said, if you're into electronic introspection and large doses of Sylvian's type of soul searching, this is cordon bleustuff.
It's a strange album, certainly less immediately enjoyable than Dead Bees On A Cake or as deep and soulful as Gone To Earth.
But for all its blipping electronica and avant garde experimentalism, it is finely produced and highly hypnotic.
It's like one big monologue of sound and vision with the odd potential hit thrown in just to confuse you and wonder, for the umpteenth time, why Sylvian still hasn't been hailed as the messiah of modern music.
"I'm not really concerned with how much airplay I get but I want to reach as many people as I possibly can with my music.
"And I also like to challenge myself. For example, I've found that I'm looking forward to the touring process, something which Robert Fripp opened my eyes to.
"I really threw myself out there when I did a few shows some years back with just me on the stage with a guitar and some keyboards.
"It was a big step psychologically and musically and now I find that it's quite a thrill to get up there and get to the heart of a song and really try to communicate to your audience.
"I was really at the mercy of the audience on so many levels and it became a really positive experience for me."
The Sylvian who chats with me, the man who shied away from fame in order to find a more meaningful life and artistic expression, the man whose depth of introspection might provide an uncomfortable background palate to his own vocal melodic structures but a strangely affecting soundtrack to my life, is still laughing.
And that's because he now has it all.
He has the experimentation on tap, the spiritual path well-trodden, the often unbearable lightness of being explored, the mental contortions displayed, the happy marriage established, the home studio built, respect of some of the world's most renowned musicians and the largely misunderstood back catalogue as his testament.
And he has the kudos and verve – or should that be nerve? – to put out a record with handclaps and unidentifiable sounds while singing about the joys of Late Night Shopping.
This, then, is the very real David Sylvian.
Words are such slippery creatures when trying to describe him, a complex musical troubadour who shares his Darkest Dreaming while managing to express the joy in the Shining of Things.
My best advice is not to take my word for how wonderful his music is.
Just simply listen to it but before you enter this brave new world, bear in mind his simple parting shot to me, "All I want to do is blow hearts wide open."
And go unrecognised in the shops at midnight of course. And turn laughing, clapping, sighing, dreaming and searching into an artform.