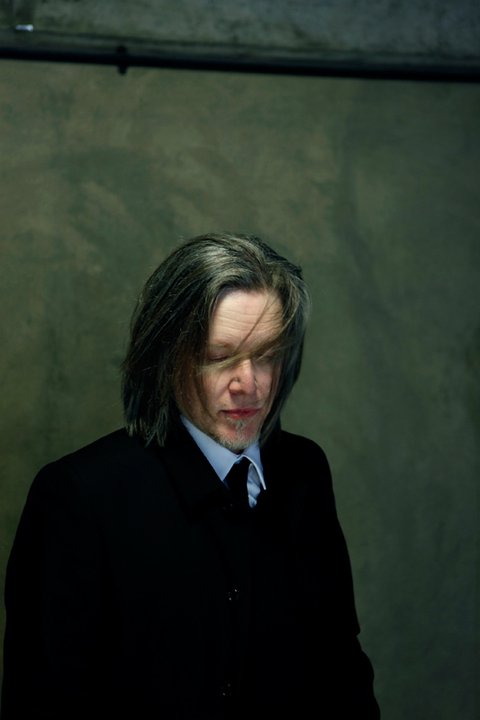 Published at September 11, 2009
IN A SYLVIAN GROOVE
by JIM FUSILLI, Wall Street Journal rock and pop music critic, 11 September 2009
Few musicians have traveled as far from their original style as has David Sylvian. He met the public in 1974 as the vocalist for Japan, a British commercial pop group in the vein of Duran Duran and Spandau Ballet. His new album, "Manafon" (Samadhisound), is a fragile, challenging, experimental work that uses its underpinning whispered, disquieting sounds and music; at times, his voice, as rich and evocative as ever, seems to perch on what's absent in the haunting background, its timbre and resolve keeping things from falling apart. The life and poems of R.S. Thomas (1913-2000) provided inspiration: The album takes its title from the Welsh village in which Thomas, an ordained priest in the Church of Wales, lived and served as a rector.
"It's such a set of intersecting characteristics within him, profound faith in God and then the questioning of that faith," Mr. Sylvian said of Thomas when we spoke by phone. "I love the dichotomy. His mission was the betterment of his life and the lives of others, but his austerity was detrimental to it. Everything in him is pared down to the essential. The man himself takes on a sort of a tragic-comedy element. He wanted to uplift humanity, yet when he saw his parishioners coming down the lane he'd hide behind bushes to avoid them."
At once, "Manafon" is completely unexpected and yet a logical progression of Mr. Sylvian's development as a writer and musician. Since he began his solo career in the mid-1980s, he's worked with jazz musicians Jon Hassell, Mark Isham, John Taylor and Kenny Wheeler; experimental guitarists Robert Fripp and David Torn; and pianist Ryuichi Sakamoto, with whom he's collaborated on several projects.
Mr. Sylvian considers "Manafon" a sequel of sorts to his "Blemish," released in 2003. But that experimental album, in which the delicate melodies hover above electronic waves and ringing guitars, was recorded in six weeks. Work on "Manafon" began in 2004, over a seven-day period in Vienna, where he convened musicians who included members of the free-improvisation group Polwechsel.
"Everything was pretty much open," he said. "But there was the question of how do I steer incredibly talented musicians in the direction I want to go. I was mining for a particular kind of gold only I knew I was looking for."
Mr. Sylvian took the recordings home, but he didn't work on them for a year until "I went into my studio, played them on my computer, and started drawing out the lyrics and melody. It was a form of improvisation for me." Later, he recorded a session in Tokyo with a different set of musicians. Finally, saxophonist Evan Parker, pianist John Tilbury, cellist Marcio Mattos and guitarist Christian Fennesz, who played on the Vienna sessions and "Blemish," gathered with Mr. Sylvian in London. He finished the album in his studio late last year. Mr. Sylvian pays tribute to the musicians in the film "Amplified Gesture," which is included in a limited edition of "Manafon".
"Manafon" has more in common with the music of Edgard Varèse, John Cage and Morton Feldman than the so-called New Romantic pop with which Mr. Sylvian was associated some 35 years ago. The song "Emily Dickinson" rests uncomfortably on a bed of low growls, static, distant sparks and what sounds like a wolf's call but actually is Mr. Parker on sax. In "The Rabbit Skinner," Mr. Mattos's cello and Mr. Parker's sax make seemingly random sounds that Mr. Sylvian connects with a melody. "Small Metal Gods" is a folk song in slow motion, while haunting piano by Mr. Tilbury adds a chill to "Random Acts of Senseless Violence."
"It's a matter of paring down," Mr. Sylvian said. "You just try to keep the arrangement of the piece sparse and not decorous. There's a freedom or liberation in the eradication of any recognizable form." Of the musicians, he said, "They are pulling back, holding back, not developing melodic lines, ignoring tonality, sonority, and I'm fleshing it out to add a melodic vocal line."
With its vague traces of David Bowie and Bryan Ferry, Mr. Sylvian's voice is resonant, intensely emotional yet almost conversational. And then there are his lyrics inspired by Thomas, who was nominated for the Nobel Prize in Literature in 1996 and whose work is largely centered on Wales, its people and the poet's spirituality. Even admirers concede that Thomas was a bitter man who led a severe existence.
The title track, which closes the album, alludes directly to Thomas—"There's a man down in the valley who is moving back in time"—as does "The Greatest Living Englishman" and, perhaps, "The Rabbit Skinner," with these lines: "As a God, everything was felt to exist/As a man, he settled for less."
"The album has twin themes of disillusionment and creativity," Mr. Sylvian said. "It's an album that poses a lot of questions rather than providing answers. My experience as a writer was to live through an experience then comment upon it. Here, I'm trying to live through the work itself."
The lyrics to "Small Metal Gods," the first song he worked on, indicate he was aware how different "Manafon" would be from his previous works: "It's the farthest place I've ever been," Mr. Sylvian writes. "It's a new frontier for me."