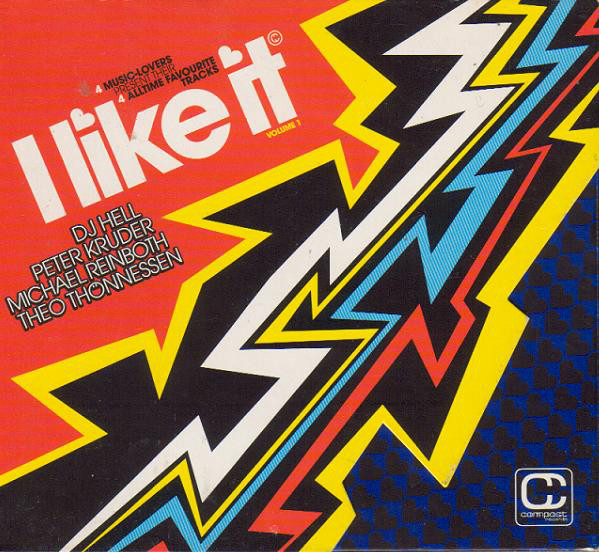 Released at November 10, 2003
Compost 145-1 /-2 (4-LP / CD)
Four celebrities (e.g. Peter Kruder of Kruder & Dorfmeister) have been asked to select their favourite favourites for the album. One of the songs is "Bamboo Houses" by David Sylvian & Ryuichi Sakamoto.
This release is available on CD and on 4LP's.
For more details on "I like it" or other good music (e.g. Jazzanova) check out Compost Records.
Tracklist:
DJ Hell (Gigolo Records)
Intro
Silicon Soul – Who Needs Sleep Tonight
Television Personalities – Part Time Punks
Max Berlin – Elle Et Moi
The Pop Group – We Are All Prostitutes
Peter Kruder (G-Stone)
Intro
Masta Ace Inc. – Sittin' On Chrome (Instrumental)
Grauzone – Film 2
Graf Hadik – Habsburg Man
Brian Eno & Daniel Lanois – Always Returning
Michael Reinboth (Compost Records)
Intro
David Sylvian & Ryuichi Sakamoto – Bamboo Houses
Mary Love-Comer – Come Out Of The Sandbox
Hector Rivera – I Want A Chance For Romance
C.O.D – In The Bottle
Theo Thönnessen (Into Somethin')
Intro
Egberto Gismonti – Indi
Arthur Russell – In The Light Of The Miracle
 Nathan Davis – Carmell's Black Forest
Alexander Hope/ Blaze – Wonderland (Original Mix)
Notes from the Compost site:
I Like It! Good for you. But who is 'I', and what the **** is 'It'? Basically the idea is easy peasy: All '4' love music, but not all music. Namely only music that is worthy of their love. '4' are celebrities and music-connoisseurs not only known to us because of their inimitable characters, but primarily due to their excellent taste of music! These '4' now use 'I Like It' to show people what time it is. 'Cause it's time to give it all up for good music, no matter what… style! And they like it. Oh yes, they do! They like the cream of the crop, the pick of the bunch ranging from Indie Soul, Hip Hop, Ambient, Electro, Jazz to New Wave and Punk.
With every additional volume of 'I Like It', 4 new celebrities come together only to give away their 4 favourite favourites. All in all sixteen tracks detached from zeitgeist, genre or the feeling having to please the listener carve out their own place on these compilations. This is music made from sweat, tears and heart's blood. Music that doesn't necessarily have to kick, but may. The very pieces of music that cause goosebumps, make you reminisce about the old times or allude to the new. And this is neither a 'headz-thing', nor some kind of stylewar. It is simply music for head, booody and heart, compiled by 4 people that mean something to us.
Honestly, it is not our intention to invalidate DJ-mix-compilations, but we do admit to have become rather fed up with them, and thus we originated our 4×4-concept. This means we chose to do without a fixed steady pace and the typical bridging of time gaps. All 4 selectors are open to choose whether they want to present their 4 favourite tracks separated from another or 'in the mix'.
Gallery
Tracklist