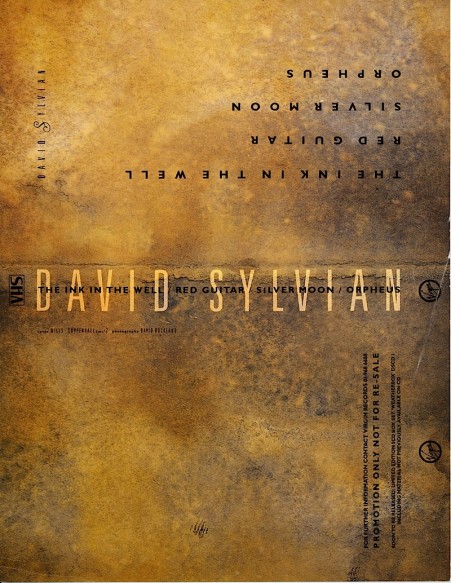 Released at August 1, 1989
Limited release of compilation video with the release of the Weatherbox.

It contains the promo videos of:
The Ink In The Well
Red Guitar
Silver Moon
Orpheus
Funny thing is that the video of Pulling Punches is NOT on this compilation: David hates it!
The sleeve is a design by Russell Mills.
On March 28 2014, Ingrid Chavez sold one signed copy of this VHS on eBay. See image with correspondence on Facebook.
Beware of fakes!
It is known that a lot of fake videos were spreaded around in the en of the 90's.
The real promo tapes have the following details:
The plastic black box has the brand logo of Virgin on the inside and he inlay of the box is on shiny, glossy paper.
The tiny, vertically printed text about the cover and photography, near the fold line must be sharp, otherwise it's a colour copy.
The tapes know to be used are SONY ES30NT (batch#3651926) with a sticker on tape, typed text:
DAVID SYLVIAN
1. INK IN THE WELL
2. RED GUITAR
3. SILVER MOON
4. ORPHEUS
RT: 21 MINS
PAL
Long, front sticker also typed
Known forgeries were copied on KONICA tapes, E20 with batch numbers 0712950708 and 3632/10SW349 printed on it and NO stickers. If you have the same batch number than it is definitely a fake.
Gallery
Tracklist