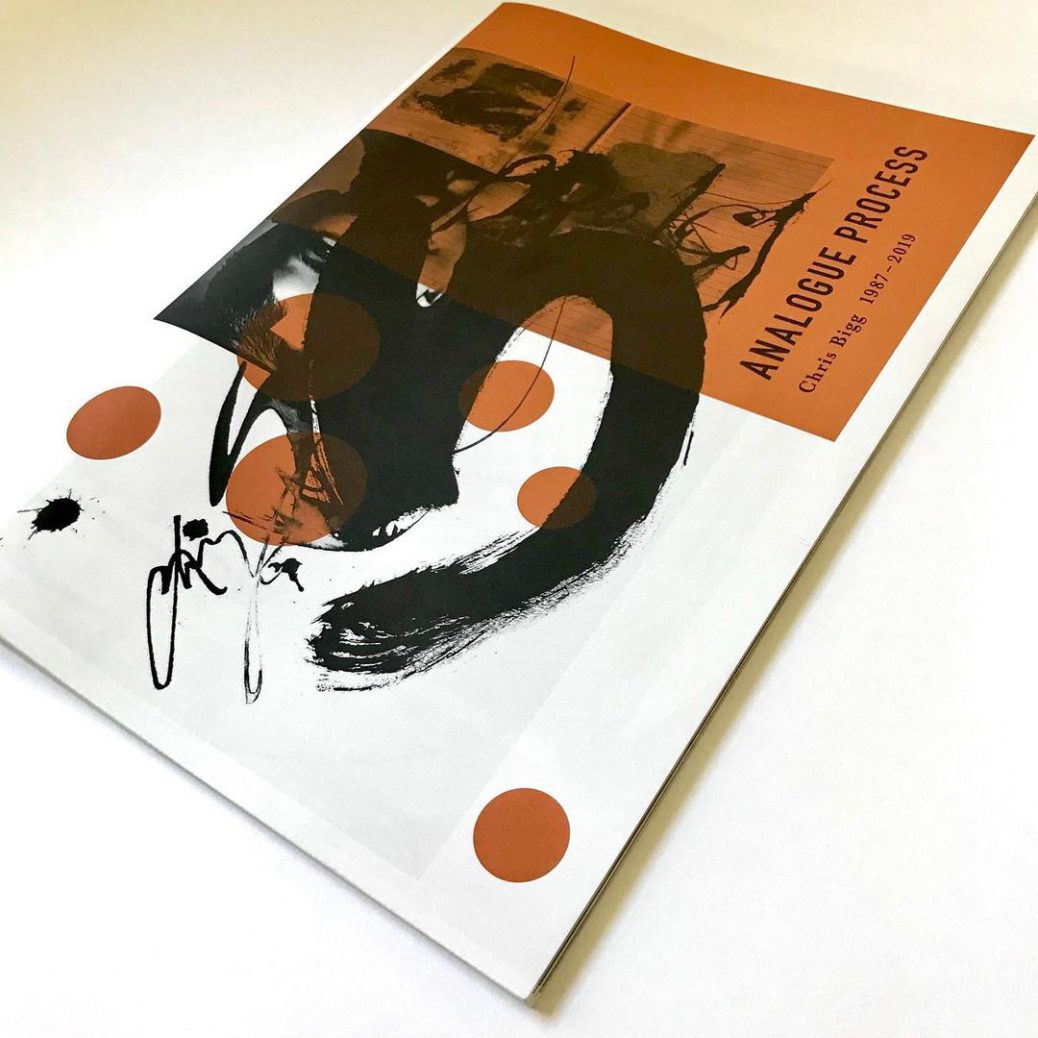 Released at October 24, 2019
Copyright © Unseen Sketchbooks UK, Chris Bigg
Photographs all Analogue.
Design Chris Bigg
Unseen Sketchbooks UK, Chris Bigg
Standard: UNS01-ED1-STD-19
Deluxe: UNS01-ED1-DEL-19
Analogue Process 1987-2019 by Chris Bigg is a 64 pages printed black and metallic orange of G. F. Smith 150gsm Munken paper released in a standard and a deluxe edition (plus a signed poster). It contains many artwork and references to Chris' work with David Sylvian.
The Deluxe Edition of the unseen sketchbook by Chris Bigg is the same as the Standard Edition and is also available to purchase. The Deluxe Edition has a poster-wrap silk screened cover and a one off screen print and ink signed print by Chris.
Unseen Scetchbook
This Unseen Scetchbook is focused on the Designer Chris Bigg who is known for his work for Record Label 4AD, working with The Pixies and more recently working on The Breeders artwork and videos. This is a short print run and will often involve special printtechniques and covers. This edition is printed 2 colour, black andmetallic orange on G . F Smith's Munken paper and comes in standardmagazine format or special one-off cover as an edition of 100 copies.
Chris Bigg's notes on this release:
I have extensive experience in all areas of creative art directing including; design, photography, typography, moving image, mark making and calligraphy. I have worked in all aspects of music packaging creating cover art, special editions, posters, press ads, merchandising, production and moving image, as well as book and exhibition design.
This publication 'Analogue Process 1987-2019' is a collection of various analogue experiments and proposals for various design projects from a 32 year period. all of these visuals have been created using only the analogue process, I have kept sketch books and process books on a yearly basis, it's still a very important part of my working process, I only really engage with a computer at the final stage of a projects final development.
Regarding this publication there is a random aspect to the layout, the accidental aspect of various juxpositions has created some interesting compositions that will go onto informing future work. Embrace the accident!
As well as running my studio I am a Senior Lecturer in Graphic Design, at the School of Art at the University of Brighton. I have research interests in visualising music and sound. Experimentation and collaboration are essential to my working process, in which I see sound and visuals are inseparable, with one informing the other.
Related release: Signed Unique Print: Chris Bigg 'Silver' Analogue Process
'Silver' poster. 18 off. Each unique. Printed 2 colour litho, Black and Metallic Orange. Orange flood print. 3 Colour screen print – White, Silver and high gloss Black. Each poster is printed on a flat, uncut running sheet from the Chris Bigg 'Analogue Process' book. 605mm x 895mm. Signed by Chris Bigg
Thank you for inspiration and collaboration:
Michael Allen, Martin Andersen, Kim Deal, Paul Dean, Vaughan Oliver, David Sylvian.
The publication includes photographs by Martin Andersen, Polly Borland, Kim Deal's family, Mark Entwisle, Yuka Fujii, Onie M. Montes & AArmando Lopez, Andy 'Admiral' Ridger, David Sylvian.
Buy Analogue Process 1987-2019 Chris Bigg Standard Edition
Buy Analogue Process 1987-2019 Chris Bigg Deluxe Edition
Buy Signed Unique Print: Chris Bigg 'Silver' Analogue Process
Follow Chris Bigg
Gallery
Unseen Sketchbooks Deluxe Edition cover

Deluxe Analogue Process Chris Bigg cover detail

Deluxe Analogue Process Chris Bigg signed inlay

Unseen Sketchbooks Analogue Process Chris Bigg cover

Unseen Sketchbooks Analogue Process Chris Bigg cover

Chris Bigg silver poster detail

Chris Bigg silver poster detail

Chris Bigg postage packing front

Chris Bigg postage packing front