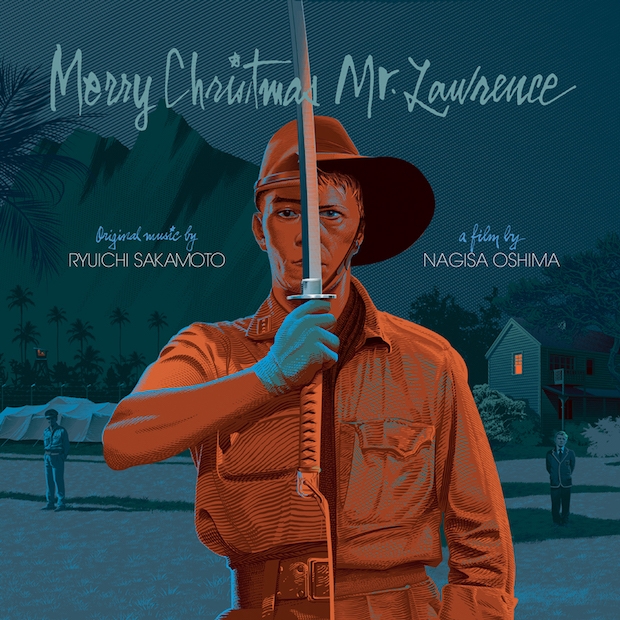 Featuring David Sylvian on Forbidden Colours!
Academy Award-winning composer Sakamoto both starred in and scored the 1983 film.
In 1983, David Bowie and Ryuichi Sakamoto (celebrated composer and Yellow Magic Orchestra member) starred in the film Merry Christmas Mr. Lawrence. Directed by Nagisa Ôshima, the film follows a British soldier (played by Bowie) in a Japanese prison camp during World War II. Sakamoto played a young soldier at the camp who develops an intimate relationship with Bowie's character.  Sakamoto also composed the film's score, which won the 1983 BAFTA Award for Best Film Music.
Milan Records will reissue Sakamoto's score on October 21. It is the latest release in Milan's Nicolas Winding Refn Presents series. Previous releases in the series includes Disasterpeace's It Follows OST and Brad Fiedel's The Terminator OST. Below you can find the score's tracklist, as well as the reissue's artwork, designed by Laurent Durieux.
Milan will also release Sakamoto's recent score for Yoji Yamada's film Nagasaki: Memories of My Son on September 23. Go here to listen to one of the score's tracks, "Ghost."
Merry Christmas Mr. Lawrence:
Merry Christmas Mr Lawrence
Batavia
Germination
A Hearty Breakfast
Before The War
The Seed and The Sower
A Brief Encounter
Ride, Ride, Ride (Cellier's Brother's Song)
The Fight
Father Christmas
Dismissed
Assembly
Beyond Reason
Sowing The Seed
23rd Psalm
Last Regrets
Ride, Ride, Ride
The Seed
Forbidden Colors (vocals by David Sylvian)