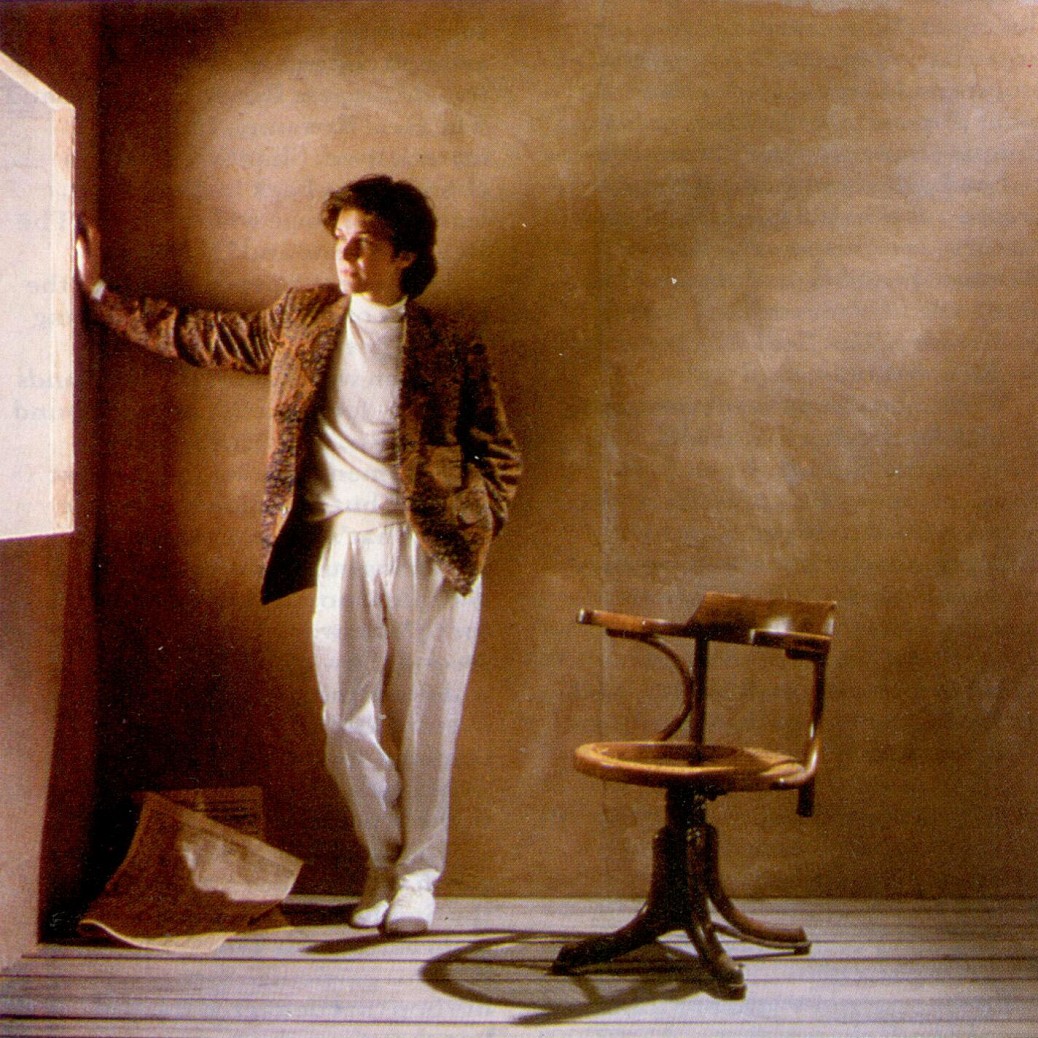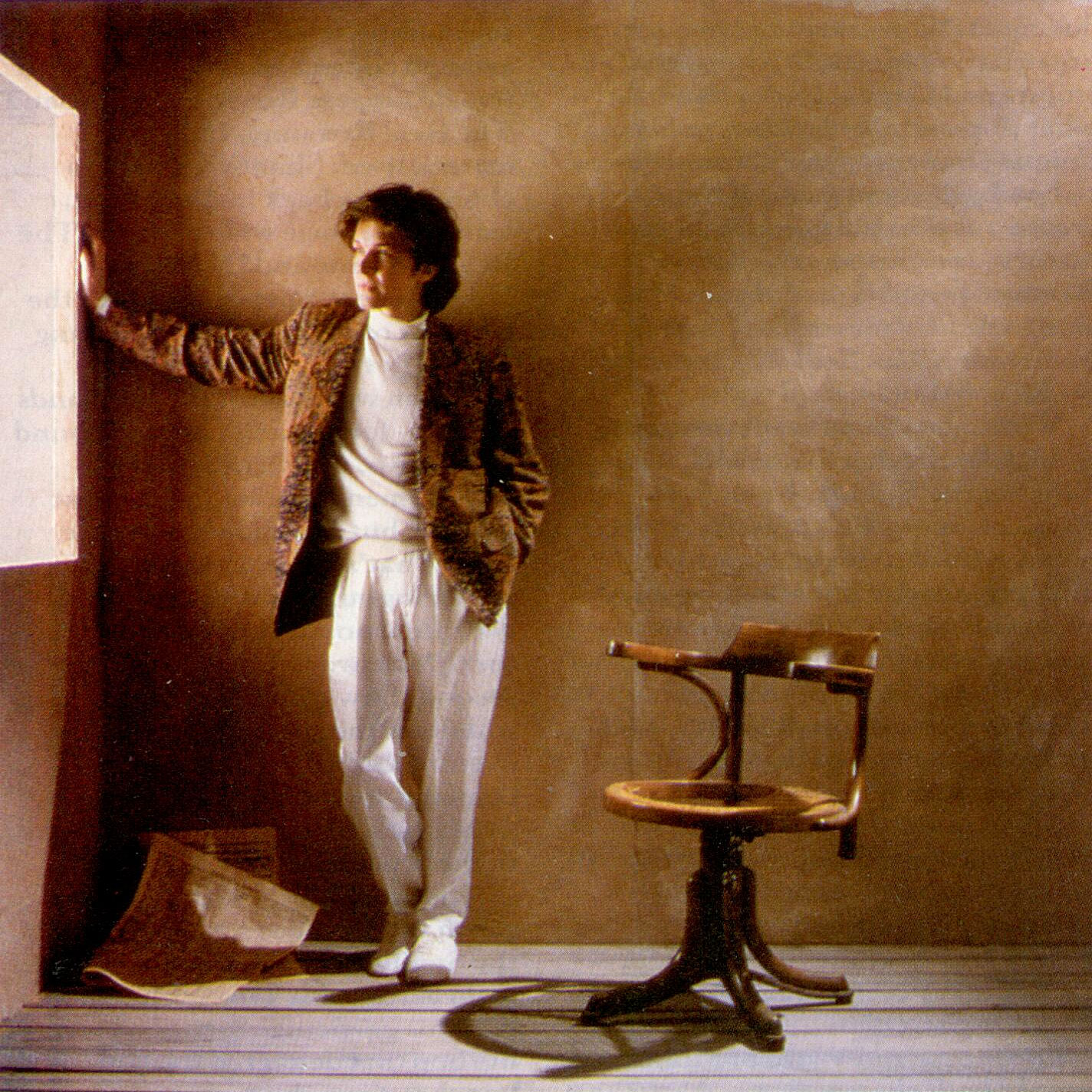 Published at April 1, 1988
Inexorably Sylvian by Nile Larsen (Details, April 1988)

When I meet David Sylvian at the Mayflower Hotel his face is not the same as the one pictured on my old Japan albums, This one belongs to a decidedly different young man, The severe Seventies makeup, which had been a disconcerting accessory for the group's naive expressions, has been scrubbed off. His bleached blond hair has grown out to a shoulder-length dishwater brown. The heavy-handed styling has been disposed of in favor of a plain overcoat. It is difficult to reconcile this solo Sylvian with the Bowiesque appearance of his Japan past. That look, which was rumored to have inspired Duran Duran's, has been shed like an old skin. His voice, however, is still intact, mesmerizing, whether singing or speaking.
He suggests that the simpler image emerged because the extras of the old look are no longer needed. Part of his frustration with Japan –and a contributing factor to the group's breakup after eight years– was that the musical significance was buried beneath too much imagery. So he set out to further develop Japan's musical ideas using a more direct and honest approach. I comment on his change in appearance. Sylvian shudders and laughs."Often, my past comes back to haunt me." But the metamorphosis was not easy and Sylvian labels the two years immediatelv following Japan's dissolution as a crisis period.
His third solo album, Secrets of the Beehive (Virgin), is his first to receive a timely release in America. The music is nearly impossible to describe — Sylvian is probably delighted at this. Imagery and analogy might help, considering how much they are used in his lyrics. There's something in Sylvian and his music that reminds me of the feeling I have when looking at an Egon Schiele painting, a certain suffered beauty.
Sylvian is aware that some people find his music heavy going, but he makes no apologies. He describes his music as like "being alone in a room with yourself, or even a step worse than that. My music is introspective in a way that makes some people really nervous. The kind of people who immediately turn on a television when they are alone don't enjoy my music — it makes them terribly uncomfortable."
In person, Svlvian has much more levity than his music suggets. I played back the tape of this interview for a friend. "But he has such a nice sense of humor," she said, astonished. "I had imagined him as a self-absorbed hermit who lives in a velvet room." Svlvian is continually amused at the varied perceptions of him and his music.
Sylvian's large eyeglasses and intricate lyrics label him literate, and he confesses to reading a lot of philosophical and religious literature while working, novels once a project is completed. When I press him for favorite titles, I feel I can see his mind running along bookshelves. Cocteau's The Difficulty of Being was his most passionate response.
Particularly striking on all of his albums is the unique knitting together of evocative lyrics and haunting music. Someone commented to me after listening to Secrets of the Beehive that David Sylvian is probably the only singer in the world who can carry off using the word "inexorably" in a song. He explains, "In order to achieve a successful fusion of words and music, both need to be written at about the same time. I don't like the idea of sitting down cold to write lyrics–music needs to be there to create a sort of landscape in my mind."
Considering his attachment to words, what was the significance of the name Japan? None, he says. "It came out of the air when we were desperate. We hated it then, we still do." Since then, however, the name has become a sort of self-fulfilling prophecy for Sylvian. Both the British band Japan and Sylvian as a solo act have enjoyed enormous popularity in Japan. Sylvian loves the country and spends time there every year. And both he and his brother, drummer Steve Jansen, have Japanese girlfriends who are photographers (Yuka, David's girlfriend, takes many of the photographs for his album covers).
But perhaps the most significant association to come out of the band is his well-publicized friendship with Japanese musician Ryuichi Sakamoto, who recently won awards for his work on the soundrrack for The Last Emperor. The two have enjoyed an unusually successful working relationship since collaborating on Bamboo Music. an album released in the UK in 1982. When they first met, Sylvian spoke no Japanese and Sakamoto little English, but there was instant communication, Since then. they have been exchanging musical favors: Sakamoto plays keyboards on Sylvian's albums, and Sylvian sings vocals on Sakamoto's award-winning sound track for the film Merry Christmas, Mr Lawrence (1983), which starred David Bowie. Recently they worked on an album for a young British musician, Virginia Astley. whom Sakamoto is producing.
I ask Sylvian whether he has plans to compose a sound track of his own, "I'm waiting patiently for the right film, but the proper screenplay hasn't presented itself. I have been offered some strange horror movies and things that made me wonder why they wanted my music for those projects."
So far Brilliant Trees (Virgin. UK. 1983) is the only solo album that he's satisfied with. He feels it's the only one that was actually completed at the time of release. Other projects exceeded the record company's budget, forcing Sylvian to invest his own money in an attempt to complete them. But when that money ran out, the records had to come out. He estimates that Secrets of the Beehive was only about a week from completion.
His next album, scheduled for release soon, is instrumental music, composed for a London dance troupe. In late March, Sylvian begins a four-month concert tour of England, Europe, the Far East and the U.S. with a performance planned for New York's Town Hall. It's his first tour since his Japan days and his first ever in Armerica. He is apprehensive about it having never enjoyed touring. When on tour with Japan, he was notorious for escaping to his hotel room after every concert, locking himself in and drawing. He views the upcoming tour as a kind of experiment. He's optimistic because of the quality of musicians coming along. But he confides, his drawing tools will be packed along just in case.