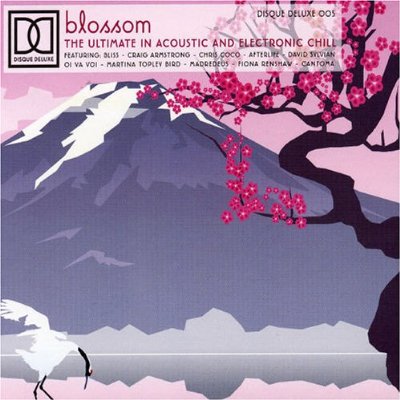 Released at August 25, 2005
compilation selected and sequenced by Leo Traumen.
Blossom is a unique collection awash with still melodic landscapes, touched by the hand of tranquillity. Its a spine-tingling odyssey through acoustic chill, drenched in angelic voices & classical moments alongside string laden instrumental poems. Blossom features an  assembly of musical auras that are like watercolour miniatures. It will make you chill, repose, float, meditate, dream and relax as it reflects  the sound of serenity, calmness and harmony.
Track listing
Sleep Will Come – Bliss
O Sonho (Ralph Myers & The Jack Herren Band Mix) – Madredeus
Yesterday's Mistakes – Oi Va Voi
This Love – Craig Armstrong
Seneca – Bardo State
Sanpaper Kisses – Martina Topley-Bird
1975 E. Sunrise Blvd. – Chris Coco
Shine
Waste Away (Acoustic Mix) – Fiona Renshaw
When Poets Dreamed of Angels – David Sylvian
Cosmopole – Cantoma
Your Love – Natalie Gardiner
But I Say – Mind Over Midi
Lullaby For Stephen – Aya
Sleepy Meadows of Buxton – Fenomenon
Gallery
Tracklist