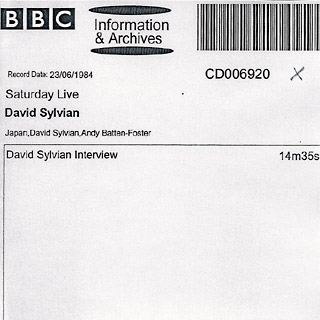 Released at January 1, 2003
Official BBC information and archives cd taken straight from the master.
Straight from the special BBC archive recordings comes this David Sylvian interview with Andy Batten-Foster.
Recorded on 23/06/1984 and broadcast on the Saturday Live show this cd has been cut from the original BBC master tape so the sound quality is pristine. The interview covers all aspects of Sylvian's personal life at the time with questions about music, philosophy, photography-specifically his exhibition of polaroids projects.
Gallery