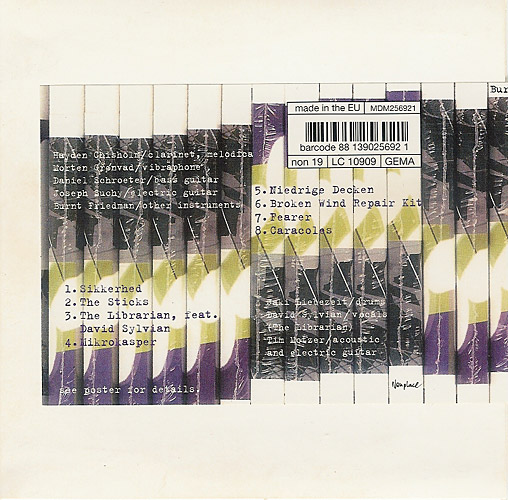 The original 12-inch version of The Librarian will finally be available on CD in Januari 2006. According to nonplace.de, the next album of Burnt Friedman and Jaki Liebezeit, called Secret Rhythms 2, will be released on Januari, 27th 2006 and will feature this track.
tracklisting:
01. Sikkerhed (4:21)
02. The Sticks (8:16)
03. The Librarian (8:15)
04. Mikrokasper (3:38)
05. Niedrige Decken (8:10)
06. Broken Wind Repair (4:58)
07. Fearer (6:54)
08. Caracoles (4:29) cd only
08. Wirklich (3:19) lp only
Total playing time 50:00
artists: Burnt Friedman & Jaki Liebezeit
title: Secret Rhythms 2
cat.no.: NON19
format: CD, 2LP
release date: 27.01.2006
Just what is a Secret Rhythm ? Well, this probably can't be answered without first having a quick look at that most un-secret of rhythms, the 4/4 bar. From Easy Listening to Heavy Metal, from church bells to Drum'n'Bass club tunes or from Country music to Raggamuffin, the steady pace and symmetry of the Four-to-the-Floor riddim structure seems to hold our fragile global existence together. Or does it ? Friedman & Liebezeit wouldn't like to think so. To these long-time collaborators and life-long activists in the exploration of musical forms and possibilities, the 4/4 bar is what they tend to call a "fearer", for the term sounds just like the German word for a 4/4 bar – and the English word for what should be left aside while searching for those Secret Rhythms. And finding them, too. It doesn't take long to discover that the "fearer" isn't everything. Many original cultures have employed various rhythm cycles at the very core of their music – and still do so. Friedman & Liebezeit, sharing a mutual interest in traveling as well as all things on- and off-beat, try to unearth those natural born grooves and, through their own music, bring it to a bigger audience. An audience often unaware that these uncommon grooves, these Secret Rhythms, even exist.
Since their first collaborative album "Secret Rhythms" (1) came out on Nonplace in 2002, Friedman & Liebezeit have been playing live all over the world, improving their cyclic grooves and creating new ones. The 8 tracks on Secret Rhythms 2 are no overt spectacular high-brow arrangement hellraisers – while being tight and containing a large amount of curious suspense, these Secret Rhythms are playful, open, transparent, sequential, hypnotic even. In this respect, Friedman & Liebezeit lean to the World Music side, without giving in to the temptation of any Jazz instrumentation or even improvisation.
The first two pieces on Secret Rhythms 2 were released in May 2005 on a teaser vinyl "Out In The Sticks" and appear here in completely new versions. The only vocal track on this album "The Librarian" is a collaboration with David Sylvian. The song appears in a different version on the album "Snow Borne Sorrow" of the band Nine Horses, consisting of Sylvian, Steve Jansen and Burnt Friedman on the label Samadhi Sound.
In addition to Friedman and Liebezeit, guitarist Tim Motzer weaves funky touches all the way through. He has resided in Philadelphia, U.S. since 1985 and has been busy working with a virtual who's who of Philadelphia artists over the years including recordings and world tours with poetess Ursula Rucker, King Britt, the French duo Les Nubians and the Sister Gertrude project. Lined up for the group´s live appearances and studio recordings is Hayden Chisholm, clarinet and melodica. Originating from New Zealand, he studied in Germany and India and has since performed all over the world. Although only 29, he has spent 7 years of his life on the road giving concerts and is currently preparing a book about his musical travels. Other guest musicians are Morten Grønvad, vibraharp, Daniel Schroeter, bass guitar and Joseph Suchy, electric guitar.