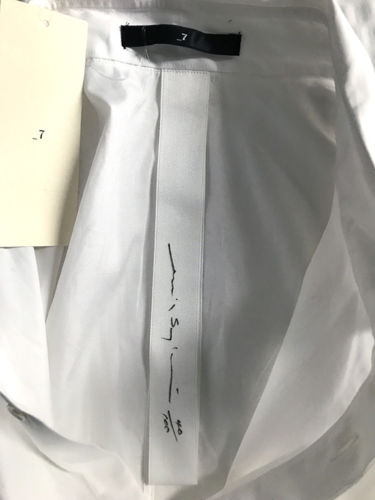 Published at August 2, 2018
As sold by David's daughter on eBay…David Sylvian: A one off collaboration between Japanese clothing designer label 'Julius' and David Sylvian. In 2008 Sylvian was approach by the Japanese clothing label to produce a collaborative effort of some kind. They settled upon an elegant white shirt of a high quality. Beneath the collar of the shirt is an extremely discreet, but entirely faithful, print of Sylvian's handwritten line from the song 'The librarian' from the album Nine Horses. "we will lie back on a pillow of the whitest snow/ and the silence we were promised will engulf us". Stitched into the inside / back of the shirt is a doubled over slip of cotton containing Sylvian's actual signature and the number of this particular shirt in the edition. The shirt is described as a large (4) but comes up as something akin to a small. The shirt has never been washed or worn. The designer's label containing info regarding the shirt is still attached. The shirt will be pressed, boxed, and sold as seen. It is #40/100 signed and numbered by Sylvian.
It's yours for over US $450.
Gallery
Item on eBay